Pairing your outfits with accessories from a Filipino jewelry brand is a simple way to elevate your personal style every day. Whether your closet is filled with athleisure and streetwear or dressy and glamorous clothing (or, let's be real, all of the above) you can celebrate your Filipino heritage.
A few years ago, I started to wear earrings everywhere. If I was at work, in class, or even studying at home, I had earrings on. It was a way to inspire self-confidence and experiment with my style.
My life has shifted since 2020, but I still wear earrings as a way to hype myself up for work-from-home calls. When I wear my capiz shell earrings, I feel connected to the Philippines and the child I was when I left—she was whimsical and confident.
Whatever the outfit or occasion, there's a lot to choose from when it comes to Filipino jewelry brands that complement your unique style. Consider the following as a starting point.
AMAMI: A Filipino Jewelry Brand For Your Classic & Romantic Wardrobe
Childhood friends Christine Tiu and Danielle Tan founded AMAMI, which collaborates with Filipino plateros (metalsmiths) across the Philippine Islands to craft intricate gold filigree jewelry.
AMAMI draws from the archipelago's rich history of jewelry-making so you can proudly wear your jewelry everyday and eventually pass it on as cherished heirlooms.
Practiced for centuries in the Philippines, gold filigree, granulation, and -casting are artforms mastered by plateros. For their iconic filigree designs, plateros melt gold and silver into fine threads that are handwoven into delicate lace and floral patterns.
The artisans, through their designs, capture the beauty of the nature around them and honor their family legacies.
Every AMAMI piece embodies a love that transcends time. Let that inspire you as you get ready to face each day.
The wreath-like Loida Creolla Earrings can add a sweet and playful flair to the staple little black dress. Meanwhile, the Sampaguita Minimalist Necklace ushers in Spring vibes when paired with pastel hues. 
Shop the AMAMI collection to find your next timeless keepsake and to help create sustainable livelihood for Filipino plateros.
Arete: A Filipino Jewelry Brand For Modern Glamour Dipped In Golden Sunsets
With a background in clothing, Filipina designer Mia Jeanjaquet started Arete to extend her creative vision into jewelry. By working with Filipino women artisans, together, they design earrings that summon island beauty.
Mia, as a jewelry designer, is excited by the landscapes, natural materials, and craftsmanship found on the islands. Arete has worked with raffia (dried palm leaves) in resin and woven rattan (dried vines) in the past. They've featured mother of pearl and baroque pearls in creative ways.
Arete uses imagery that calls us home.
The Rafia Cuadrado Studs, made with mother of pearl, add a glowing touch to your evening dress. You can also bloom with the feminine petals of the Caida Bloom Drop earrings. Pair them with a off-shoulder top and high-waisted shorts for an effortless ode to summer. 
Explore the Arete collection to imbue the enchantment of the islands whenever you get dressed.
En Route Handcrafted: A Filipino Jewelry Brand For Those Who Love To Make A Bold, Artsy, & Fun Fashion Statement
Founded by Yana Santiago, En Route Handcrafted empowers women and Indigenous artisans across Mindanao, as well as their supporters, to build joyful lives through eco-ethical fashion.
En Route's wooden earrings are diligently hand carved by Tboli artisans in Lake Sebu, South Cotabato. The Tala earrings in particular are etched with care to let its natural wood shine through.
Is your wardrobe a patchwork quilt of colors and textures that remind you of the early 2000s? En Route's wooden earrings boast bold and iconic designs. It deserves an equally strong ensemble, so you can have fun creating full looks. Go on, mix pattern on pattern!
The Abaniko Wooden Earrings can zhuzh up any color block ensemble. If you're a fan of patterns, you can add another layer of personality with pieces like the Tala Wooden Earrings.
En Route is for the bold whose imaginations go wild.
Shop the En Route collection to show off your free-spirited whimsy.
Island Girl: A Filipino Jewelry Brand To Invoke Your Inner Tropical Goddess
Mother and daughter duo Janet and Janice Chua created Island Girl to spotlight the Philippines' rich natural resources and artisan talents.
Specifically, Island Girl is based in and supports local industries in Cebu, Bohol, and Negros Islands in the Visayas. They currently work with eleven artisan communities and use 80% local, ethically-sourced materials.
Island Girl designs jewelry that brings out the natural beauty of the Philippine Islands, so you can feel
sleek and polished
for every occasion. (
Click here
for more outfit inspo on Pinterest.)
Sleek, contemporary, and lightweight, Island Girl jewelry leaves you feeling polished wherever you go.
You can bring the ocean vibes (mermaidcore, anyone?) into your office with the Ariel Seashell Earrings, made with mother of pearl. Or try dressing up your casual night out with the ever-versatile Valentina Capiz Earrings.
Explore the Island Girl collection and mirror the innate beauty and sophistication of the Philippines.
Sesotunawa: A Filipino Jewelry Brand Handcrafting Minimalist & Nature-Inspired Pieces To Shine With Your Everyday Basics
Joel Blunto, a Tau Temwel (Tboli brass-caster), co-founded Sesotunawa to tell the story of the Tboli peoples of Lake Sebu, South Cotabato in Mindanao. Tboli brass-casting and beading are Indigenous art forms that celebrate Tboli culture and now share it to the wider Filipino community.
Sesotunawa handcrafts brass jewelry in

 
minimalist designs
 

to wear with your everyday basics. (
Click here
 

for more outfit inspo on Pinterest.)
Sesotunawa itself translates to "the spirit of working together." Each Sesotunawa piece bears this very idea — they are made within the community and shaped by the landscapes of Lake Sebu.
Visually, their designs are grounded in organic shapes and forms. Pieces like the Geometric Brass Bangle and Olo Spiral Ring can add a pinch of earthy luster to your capsule wardrobe.
Shop the Sesotunawa collection for a model-off-duty aesthetic that honors the natural glow of the homeland.
As we explore these Filipino jewelry brands, we grow more conscious of the abundant beauty of our islands. To wear our heritage is an act of remembrance and celebration that can bring us closer to home — but it looks different for us all. 
Are you looking for everyday jewelry that celebrates your unique style and Filipino identity?
Browse Cambio & Co.'s full collection of Filipino jewelry, proudly designed and ethically handcrafted in the homeland, to help you reconnect to your roots, always. You can also find extra outfit inspiration on our Pinterest board.
---
Mikaela Lucido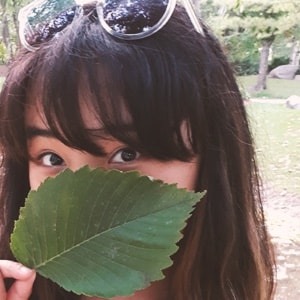 Mikaela Lucido was born in Manila, Philippines and lives in Mississauga. She studied Creative Writing & Publishing at Sheridan College. Her work has been featured in Savant-Garde Literary Magazine, post ghost press, Gothic Tales of Haunted Futures, and Augur Magazine. She is a first reader for Savant-Garde Literary Magazine. Find her on Twitter (@LucidoMikaela) where she is often live-tweeting about Taylor Swift, superheroes, or mental health.
---