There are few brands out there synonymous with creating a movement, but ANTHILL Fabric Gallery in the Philippines is one of them. With their rallying cry to 'Wear Your Tribe. Wear With Pride.', ANTHILL has become a leading advocate for Filipinos all over the world to wear our heritage on our sleeves, literally.
ANTHILL is an ethical and cultural enterprise based in Cebu in the Philippines. They create sustainable fashion accessories that bridge contemporary designs with traditional Filipino techniques, partnering with weavers and artisans all over the country.
Every ANTHILL piece is crafted in partnership with weavers across the Philippines, using sustainably sourced materials. Pictured here is our zero-waste Panyo Kapa made of scrap cotton threads and handspun yarn.
It takes a community to build a brand, and often their stories don't see the day of light. However, with ANTHILL, every person matters. ANTHILL's unique model not only employs artisans with fair wages, but also trains them in financial literacy and cultural appreciation, teaching artisans how to create profitable businesses while training younger generations of weavers.
But ANTHILL's impact doesn't stop there. You can't talk real sustainability without talking impact on the environment. And on this, ANTHILL is also leading the #zerowaste movement in the Philippines and beyond.
ANTHILL employs weavers from all across the country to create contemporary pieces that respect indigenous tradition and Filipino heritage. Pictured here is Master Weaver Ate Lisa of Mang Abel Ti Abra.
To craft each ANTHILL piece, weavers source scrap threads of cotton, which they upcycle and meticulously spin into yarn using traditional wooden looms. The process is long and arduous, but the result is a contemporary, zero-waste piece that respects Filipino heritage and indigenous craft, while minimizing impact on the earth.
INTRODUCING JESSICA OUANO, ANTHILL'S LEAD TEXTILE DESIGNER
Jess joining ANTHILL in 2016 was a match made in heaven. An avid cosplayer with a keen eye for details, Jess knew she had a deep connection with design early on. Furthermore, her low-impact lifestyle and passion for impactful design resonated with the brand's values.
Jess Ouano loves the challenge of incorporating sustainable impact with contemporary design as ANTHILL's Textile Designer.
Jess purposely puts sustainable practices at the forefront of her collections. From conceptualization down to production and to post-consumer lifecycle, she's constantly thinking of how to create a zero waste system.
As we celebrate the launch of ANTHILL in North America, we were so excited to sit down and speak with Jess about her journey and passion for sustainable fashion design, as well as how her work with ANTHILL Fabric Gallery has influenced her as a designer.
This partnership with Cambio & Co. and ANTHILL has been three years in the making, and we're excited to finally share it with you.
WAS FASHION DESIGN A PASSION YOU HAD AS A KID OR WAS IT SOMETHING YOU SLOWLY DISCOVERED OVER THE YEARS?
As a kid, I was always fond of arts and crafts, though my passion for fashion design was something I slowly discovered over the years. I was initially interested in costume design for film and theater. I discovered just how amazing the work of textile artists and fashion designers were and that inspired me to get into fashion.
Our zero-waste Pamana Heritage Reversible Infinity Scarf weaves together modern, classic design with a touch of quirkiness, as is the signature of Textile Designer Jess Ouano.
WHAT'S YOUR PERSONAL AESTHETIC AND HOW DOES IT RESONATE WITH YOUR DESIGNS?
My aesthetic is modern, but classic with a touch of quirkiness. I love creating garments with simple silhouettes combined with interesting textile applications. I love experimenting and I always try to make the textile the highlight of the garment. This resonates in my designs that play around with various textiles, textures, and colors.
WHAT ATTRACTED YOU TO ANTHILL FABRIC GALLERY? IN WHAT WAYS IS DESIGNING FOR ANTHILL DIFFERENT FROM DESIGNING FOR OTHER FASHION BRANDS?
I was attracted by their support for Philippine handloom weaving communities, as well as their interest to create a sustainable livelihood for these communities.
Designing for ANTHILL is different than designing for other brands. When conceptualizing new products, we take into consideration how the weaves and other materials we source can potentially assist in the development of the livelihood in artisan communities. We also consider how we can potentially reduce environmental impact through our products. Designing for a brand that creates consciously made products is what makes the experience so special.
Every ANTHILL piece is made from scrap threads of cotton, which weavers upcycle and meticulously spin into yarn using traditional wooden looms
AS A DESIGNER, WHAT ARE THE CHALLENGES YOU FACE FROM CONCEPTUALIZATION ALL THE WAY DOWN TO PRODUCTION?
One of my personal challenges as a designer is applying customer input into the designs and marrying my ideas with what the target market wants.
Another challenge is creating designs that have the least amount of impact on the environment.
IN THE NEXT FEW YEARS? WHAT'S YOUR VISION FOR FUTURE COLLECTIONS?
I hope for our next collections to constantly improve in terms of textile innovation and environmental impact. I'm looking forward to creating textiles with more variations of prints and patterns, as well as using locally sourced, natural fibers and yarns as well.
WHY IS IT IMPORTANT FOR YOU TO PUT PHILIPPINE FASHION/HERITAGE AT THE FOREFRONT OF YOUR DESIGNS AND AESTHETIC (BEYOND IT BEING CORE TO ANTHILL'S IDENTITY)?
It's important because I believe that the Philippines' culture is so special and putting this at the forefront of our designs is what sets us apart from other international brands. I also believe that, through fashion, we can encourage other Filipinos to appreciate their own culture and, of course, support us in helping preserve our craft traditions. 
The ANTHILL team with the weaving community in Bangued, Abra in Northern Luzon.

DO YOU THINK LOCALS ARE SEARCHING FOR MORE QUALITY PHILIPPINE MADE/DESIGNED PRODUCTS? IS THIS SIMPLY A TREND OR WILL THIS PICK UP FOR THE LONG TERM?
Yes, I believe locals especially the youth are searching for more quality Philippine made/designed products. They see the value in supporting local industries and expressing their pride as Filipinos. I don't think it's a trend, and I believe our love for Philippine-made products will only grow in the future.
WHAT'S NEXT FOR YOU PERSONALLY? WHAT'S YOUR DREAM FOR THE PHILIPPINE FASHION INDUSTRY AS A WHOLE? 
Personally, I hope to develop my textile design skills and constantly develop new textile innovations to further improve the Philippine textile and fashion industry. It's also my goal to inspire the younger artisans we work with to constantly innovate and create new ideas of their own.
I hope for the Philippine fashion industry as a whole to develop into one that's more sustainable and globally competitive.
---
Ayumi Rollan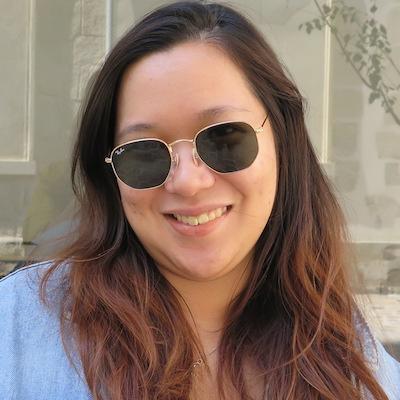 Ayumi is a PR girl by profession working in the fashion industry and advocating sustainability. She was born and raised in Manila but currently resides in Paris. When she's not analyzing trends, she's out chasing sunsets around the world.
---