How much do you know about your family history—your Filipino ancestors? Recently, I had an open conversation with my dad about the history of mental illness in our family. It was a part of another important journey in my life, my mental health and healing as a Filipina, but the conversation reminded me of an old dream I had: to find the origin of my Filipino family's surname, Lucido, which is historically Italian.
So, this last month, I've been trying to trace my roots through a family tree.
When I was little, I only ever wanted to make the connection between myself and an Italian last name because I wanted so badly to claim any kind of whiteness. I'd believed as a kid that to accomplish great things, I'd need to be a white person.
I stopped doing this when I grew up, thankfully, but I'm not proud of the memory.
Tracing My Filipino Ancestry Is My Means To Decolonize 
Truth be told, I revisited this quest for answers because of the recent spike in anti-Asian hate crimes in North America. It is now my way to resist the prevailing narrative about the Asian diaspora and our identities.
We are not model minorities. We are neither perpetual foreigners nor national security threats. Our history as Filipinos, as Asians, in our chosen homes is older than we might think, even if it has often been silenced.
In my search, I've learned that my great-uncle was a defense lawyer for Filipina Lydia Dean. 
Another relative, my great-grandmother Adela, lived in California for several years. I had always believed she'd stayed in the Philippines her whole life.
I didn't know these amazing stories.
Honestly, it's… embarrassing to think about it now. I used to think I was the only one in my family who liked to travel, or the first one besides my dad to go to the States. 
I didn't understand how capable my family is and always has been, much less that they have had a longer landed history in North America than I knew.
We, the Asian and Filipino diaspora, are not a monolith and our experiences are so vast. 
Unearthing The History Of My Filipino Family Is Hard Work 
Part of exploring my Filipino roots was a visit to my dad's hometown Nagcarlan, Laguna in 2018.
My family tree as a project has been years in the making. I've always had some interest in history, especially when it comes to my family's, but I gave up a few years ago because of how inaccessible documents are.
My best friend is white and American. We decided to share our projects with each other earlier this year. Already, she's been able to trace back further and faster than I have.
It makes sense. My mother's family in the Philippines lost documents and photos back in 2009 because of Tropical Storm Ondoy, which adds another layer to the challenge of building our family's archives. 
And for those of us whose countries were colonized, there are giant gaps and distortions in public records. Many documents, traditions, and artifacts were destroyed in one manner or another.
Because of this, most Filipinos can only trace back their ancestry to their great-grandparents. For a long time, this was true for me, if only because my dad would not stop comparing me to his Lola Adela. 
Connecting With My Filipino Elders And Ancestors 
Traveling to the Philippines with my grandmother bonded us with a deeper connection.
Hard as it's been to gather certificates and information in the Philippines from thousands of miles away, I realized that wasn't the only crucial resource I have access to.
Conversations with my older relatives have bridged the gaps of my family history.
One December before COVID, my grandmothers, mother, and I sat in our kitchen for hours as I recorded the names of their siblings. This wasn't a scientific process of listing family members and ticking off checkboxes. Finally, I heard their stories.
The lives of distant kin stretched out before me, fanned wide like branches of a big tree. My family tree.
I learned my great-grandfather was a fisherman. I learned where Samar was on a map. Before, I'd only known it was where my grandfather grew up. (I'm not kidding when I say I didn't know a lot.)
Other relatives of mine have also started to do this work. I'm reaching out to my uncles and aunts to listen to the stories they've collected and kept.
My Filipino Family Tree Is A Lifelong Project 
My brother and I are the most recent addition to the generations displayed on a wall in my dad's childhood home.
I am not going to find every answer, name, or story in my Filipino family tree in one month. It's much more complicated than that because people's lives are complicated.
In fact, I find more questions with every lead I pursue. I've learned that my maternal grandfather's last name was suddenly changed a few generations ago. I'm still figuring out why.
I could pay for a genetic ancestry test, but that won't give me the stories I'm getting now. It won't give me the new connections I'm making with my lolas and even my parents.
That snowy afternoon when my dad let me ask him about our family's history with mental illness, we spoke about my paternal grandfather. He was not a perfect man and likely battled depression. Knowing this helped me understand how or why my dad pursued Psychology in college, but also helped me understand why he might first have been in denial with my own depression.
Our Filipino Ancestors Led Full, Beautiful Lives
I've been thinking more about my Filipino ancestors, like my Lola Adela. On the left is my Lola Adela, cradling me in her arms, in 1997; on the right is me after our move to Canada, 2004.
Knowing more about my family history didn't erase any hurt, but it did cultivate in me more empathy. Throughout the process, I've been thinking a lot about my dad's Lola Adela. The one with a life in California I only learned about recently. The one my dad recognizes in me.
I think about the stories she's fondly remembered for, how she could command a room and how fiercely she loved. I might not have any of her heirlooms, but I'm told I look and act like her. It's taken me twenty years to embrace that.
I look at photos of my Lola Adela and see the proud way she lifts her chin and how she's never hid her Filipino nose like I have. 
She wasn't perfect. Her son wasn't perfect. My dad isn't perfect. Neither am I. 
But I look at Lola Adela, our lineage, and wonder what I will mean to my descendants. What stories will I leave them with? What kind of love will I pass down?
I have had such a complex relationship with what it means to be Filipino. I didn't feel like a "real" Filipino because I wasn't fluent in Tagalog or I can't understand my Lola's Cebuano. 
But tracing the roots of my family tree, getting to know about my ancestors is my way to learn more about who I am and to undo as much erasure as I can. Not only are our experiences vast and unique, but they matter.
They are more than worth keeping to learn from and to celebrate.
Are you also reconnecting with your Filipino roots and ancestors?
Join our global Filipina/x community to receive a weekly newsletter sharing stories about Filipino culture, identity, and community. Plus offers to celebrate our heritage through fashion.
---
Mikaela Lucido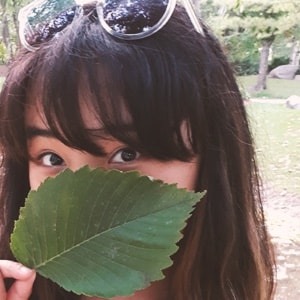 Mikaela Lucido was born in Manila, Philippines and lives in Mississauga. She studied Creative Writing & Publishing at Sheridan College. Her work has been featured in Savant-Garde Literary Magazine, post ghost press, Gothic Tales of Haunted Futures, and Augur Magazine. She is a first reader for Savant-Garde Literary Magazine. Find her on Twitter (@LucidoMikaela) where she is often live-tweeting about Taylor Swift, superheroes, or mental health.
---
3 comments
---
---