"We need to stay in Manila for a few days at the very least," I was adamant about this part of the itinerary. I was planning a significant trip to the motherland with my British partner who had never been to the Philippines before. I wanted so badly for Dom to see where I come from and why I boast of this place with so much love and pride.
Earlier on in our relationship, he had casually commented how he would skip Manila if he ever went to the Philippines because of some documentary he had seen. Predictably, it showed Manila as a crime-ridden, impoverished, and corrupt city. Sure, it is all of those things, but even then, I was quickly offended and determined to take him there myself. No doubt, it's a common refrain to "skip Manila" from both tourists and local Filipinos alike. But that would not be an option for us. 
Justine enjoying the view in front of Manila's Pasig River.
The Philippines is known for being an island nation, for its dazzling white sand beaches, its majestic and idyllic islands – but for me, the beating heart of the Philippines is Manila. It is where my beating heart lies. And I was determined to show my partner why I love this place so much and why, after spending almost all of my life in an entirely different country, Manila remains a place I long to return to.
There is a gritty, frenetic energy to this city that, in all my travels, continues to remain unmatched. It is an energy that I feel so inherently connected to, that seems to course through my own veins. It is not just a city of contrasts – no, it is far more complicated than that.
Manila is a city of contradictions, deeply flawed and frayed. It is bound by colonialism, ravaged by someone else's war, but buoyed by a hope for a future that might not make sense for many, sometimes even myself included. 
And that is what makes it so painfully, so beautifully human.
The Pull Towards Conservatism, the Push for Diversity 
In a country where 86% of its population is Catholic, it's not hard to imagine how or why the Philippines is as conservative and traditional as it is. But that's being kind. What I should say is that in a country where Catholicism is so deeply intertwined with the government, it's not hard to imagine how or why the Philippines is as violently homophobic and sexist as it is.
The Manila Fringe Festival is an annual community arts festival that brings together diverse voices from around the world. It's a space where individuals across gender and sexuality spectrums are free to express themselves, in contrast to the Philippines' strict sexism and homophobia.
What is harder to imagine though, but what is actually bursting at the seams in Manila, is the diversity of identities that are pushing back against these patriarchal traditions. The arts scene especially is burgeoning with individuals from across gender and sexuality spectrums who are flaunting their identity with pride, openly resisting the homophobia and sexism that underpins the country's culture.
Dom and I were lucky to have been in Manila during the Fringe Festival where that pride, creativity, and resistance was celebrated in all its glory. Fringe Manila is an open-access, non-curated, uncensored arts and community festival and its opening party was a stunning gathering of so many diverse voices. There were Filipinos not just from the Philippines, but from all across the globe. Men, women, and gender binary folk ruled the dancefloor expressing and owning their gender and sexuality in ways that the wider culture aims to control and constrain.
And all across the city are pockets of resistance just like this that are shaking the foundations our colonizers built. 
Justine in front of a mural of Philippine national hero Jose Rizal, one of the leaders of the resistance against the Spanish colonial powers.
Fusing Filipino Roots with Contemporary Movements
In a country where American influence reigns supreme, where the glorification of the West is at its peak, and where colonial mentality remains pervasive, Manila has hidden gems that boast our Filipino roots. One such example is Agimat, a foraging bar whose name and aesthetic derives inspiration from Filipino folklore and magic. Located in the hip neighbourhood of Población, Agimat is housed inside a classic bahay na bato (an architectural style that originated during the Spanish colonial era) with a giant Balete tree in its bar. Its entire ambiance puts our myths at the centre of focus, making it impossible to ignore and compelling you to learn more.
Dinner at Agimat, a proudly Filipino restaurant rooted in Filipino folklore and local ingredients. Agimat is one of many establishments eschewing the 'imported is better' mentality and taking part of the growing local movement in Manila.
The ingredients on the menu itself are also proudly Filipino. Agimat's menu changes regularly to highlight ingredients that are indigenous to the different parts of the Philippines. When we visited, the menu was full of fresh produce foraged from Batangas complete with a map of the province to showcase where exactly our food and drinks were coming from. The cuisine itself features a medley of international dishes fusing our traditional ingredients with contemporary food trends.
But make no mistake - the star of this show is all that is Filipino: the aesthetic, the ambiance, the very ingredients that make up each dish. It is a refreshing change from the colonial mentality that runs deep not just in Manila but across the entire country – a mentality that often shames the richness of our own roots. 
Justine with her British partner, Dom. When planning their trip to Philippines, Justine was adamant that they travel within Manila despite mainstream travel advice telling them to skip the city altogether.
From Tragedy to Promise
The history of Manila is a long and tragic one. It was here that our country fell to the Spaniards in 1571 and thus beginning over 300 years of Spanish colonial rule. It was here too that the Spaniards then transferred control of our sovereignty to the Americans in the Mock Battle of Manila of 1898; thus beginning nearly 50 years of American colonial rule.
The end to our history of colonialism happened only after World War II when Manila was razed to the ground killing over 100,000 civilians; the city a mere pawn in someone else's war. Unbeknownst to many, Manila was the second most ravaged city in WWII, only second to Warsaw. Once the "Pearl of the Orient", Manila has never fully recovered from that trauma. Economic opportunities dwindled while poverty increased dramatically. In fact, since then, migration has become a deeply rooted part of our country's culture with more than 10 million Filipinos, or 10% of our population, migrating to other countries to create our vast diaspora. To leave our own country has become our people's dream.
Scenes of the Don't Skip Manila walking tour, a local company that aims to connect tourists and locals with the city's rich history and vibrant culture.
But even in the face of this hardship, you will find glimmers of hope in Manila. One such glimmer can be found with the folks behind "Don't Skip Manila", a local walking tour company that was born out of a love for Manila and a hope to reconnect locals with the beauty of their own city. With tours in various districts of Manila, their goal is to cultivate the pride that has been lost over years of tragedy.
Dom and I toured around Intramuros - Manila's famed Walled City that was the seat of power during the Spanish colonial era - with our guide Andrei who spoke with such a passion for this city you couldn't help but feel it too. There was no attempt to gloss over Manila's traumatic past or hide its deeply rooted flaws. No, that's part of what makes Manila so rich, so nuanced, so powerful. Armed with a deep knowledge of history and a bold commitment to build from it, Andrei makes you see what this city could be.
Scattered all across the city are these young activists, entrepreneurs, artists, and educators who are planting the seeds to grow and nurture this city back to its former glory. 
A view of the Pasig River in Intramuros. Manila may be dirty, noisy, and full of contradictions, but for many, the beating heart of the Philippines is in Manila.
Finding Beauty in Contradictions
Manila is messy, disorderly, and endlessly contradictory. It is, on most days, ugly.
It is a place where value systems clash, where the past and the present collide, where trauma and hope live side by side. It is as complicated as we as people are complicated.
And that's what makes it such a powerful place to be, to witness, and to love.
There is a line in one of my favourite poems that reads, "I want to know if you can see Beauty even when it is not pretty every day. And if you can source your own life from its presence." It's a line I aspire to live by and Manila and its people are the living example. 
---
Justine Abigail Yu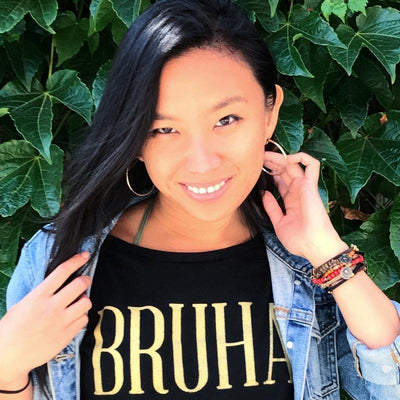 Justine Abigail Yu is a communications and marketing strategist for the social impact space and has worked with organizations operating in North America, Central America, East Africa, and Southeast Asia. She is the Founder and Editor of Living Hyphen, an intimate journal that explores the experiences of hyphenated Canadians and examines what it means to be part of a diaspora in our country. Her mission is to stir the conscience and spur social change.
---