Content Warning: In writing about Filipino food culture, the author discusses racism and mentions her experience with disordered eating.
In Filipino food culture, we understand that food is a love language that can invoke powerful memories. The simple waft of sinigang can feel like a warm embrace. For myself, sometimes even chalk dust can remind me of my Tita Arlene walking triumphantly through the door with espasol—a popular rice cake cooked in coconut milk and dusted with toasted rice flour.
The past year has been one of discovery about my relationship to food, Filipino or otherwise. I started cooking regularly to cope with disordered eating habits. Before this, I hadn't tried my hand at many Filipino recipes out of fear or shame.
My childhood in Canada definitely had happy Filipino food memories, but there were also moments that later kept me from cooking or engaging with dishes outside of potlucks or what my lola would make for dinner.
Revisiting my favorite childhood dishes as an adult has helped me to recognize that Filipino recipes can be legacies of love and a way for us to reconnect with our roots.
Filipino food culture is preparing our favorite recipes together—a reason for joy, never shame.
Filipino food culture is preparing our favorite recipes together—a reason for joy, never shame. One of my favorite memories with my maternal lola was folding lumpia wrappers. (Photo from schinnawong)
As a kid, I was a picky eater but I was absolutely weak for lumpia. The Filipino spring rolls, often filled with pork or vegetables, somehow tickled my taste buds in a way that a lot of other foods didn't.
One of my favorite memories with my maternal lola was folding lumpia wrappers. We sat together at the kitchen table and she taught me how to fold them neatly. Sharing this experience with her taught me patience and the joy of watching something you created turn to gold on a plate.
But that soon changed when I went to high school. Classmates would ask me why I always had lumpia packed for lunch. They even asked me why I used a spoon to cut the rolls when knives existed.
It never occurred to me before that using a spoon as a knife wasn't "normal".
When I visited an Asian mall with some friends, they made fun of me for not being a "real Asian" since I didn't know how to use chopsticks.
All of these experiences compounded. I internalized the shame and started avoiding lumpia. 
A few months ago, though, my lola made some lumpia and I suddenly craved folding them with her again. I also noticed my cousin calling her for help with some Filipino recipes and realized that I can reclaim the joy I once felt.
After all, one of my earliest memories in the Philippines is climbing on a stool and asking my maternal lola how to cook rice.
It's a baby step, but a step nonetheless: I can ask to help out in the kitchen.
No matter what happens outside the kitchen, Filipino food culture has a way to bring us back to our roots.
No matter what happens outside the kitchen, Filipino food culture has a way to bring us back to our roots. My brother rarely experimented in the kitchen, but he was craving leche flan. (Photo from Chola Tolentino)
At any Filipino potluck when I was growing up, when it was time for dessert, leche flan was the first to go. There was and is nothing more heartbreaking than getting to the dessert table and realizing all that's left of the leche flan is a puddle of syrup.
Known as crème caramel or simply flan in other cultures, this custard is a Filipino staple. I watched my lola and dad experiment with leche flan over the years, but it wasn't until my brother decided to make some for Christmas two years ago that I realized it wasn't an impossible feat after all.
Back then, my brother rarely experimented in the kitchen. But he was craving leche flan in November and decided to learn to make the dessert in order to contribute to our family potluck.
I witnessed him put together a grocery list and struggle with the air bubbles. In the end, though, it was a great first attempt (my tastebuds can attest to that) and my parents and grandparents were impressed with his efforts.
My brother doesn't remember much of his childhood in the Philippines and growing up he often was teased for how "white-washed" he was. I'm definitely not fluent in Tagalog, but my brother is less familiar and can't understand a lot.
But food? He understands that well.
Rather than walk away in shame, he decided to try again and now, when I think of his leche flan, I think of that energy and perseverance to recreate a dessert that connected him most to his roots, even if, like him, his leche flan turned out just a little different.
Filipino food culture doesn't look down at
tira
(leftovers), because no effort is ever
sayang
(waste) among those who love us.
Filipino food culture doesn't look down at tira (leftovers), because no effort is ever sayang (waste) among those who love us. (Photo from Richard Ernest Yap)
A popular street snack, turon is a fried spring roll often containing banana and jackfruit, though can sometimes even include coconut, mango, or sweet potato.
Turon is one of the most prominent Filipino snacks I recall from my early childhood in the Philippines. In fact, I vividly recall asking my lola all day to make "sinturon" and her being very, very, very confused as to why I wanted a belt for meryenda.
Where I grew up in Canada, it was commonplace to host cultural food festivals in the school gym or classroom. So, when my French teacher decided to host one, I decided to make turon. 
The problem? I used regular Cavendish bananas. I also waited until the night before to start. As you can imagine, without saba bananas, jackfruit, or really any experience in making turon, it tasted … okay. I didn't even ask my lola for help because I was too embarrassed. Because of that, hardly anyone had my turon and I went home in tears with a nearly full tray.
I never tried to make turon again. 
Recently, I've thought about how my mom, lola, and dad sat around the table with me and ate the rest of my turon, giving me tips for next time. It's been several years, but I've realized that I can't be afraid of asking for help. 
So here's hoping my next attempt during this holiday season will turn out better in knowing I don't have to try things alone.
Ultimately, Filipino food culture invites us to the table, and will love whatever we bring to it, in true
salu-salo
(potluck) spirit.
My lola and I were excited to share some halo-halo after landing in the Philippines for a visit.
Confession: there are still dishes I've avoided because of my picky eater childhood, like … sinigang and adobo. While I think there's something to be said for people teasing me about not being a "real Filipino" because these aren't my favorite dishes, I do want to give them a shot again. 
I want to be open to redefining these dishes for me. 
Of course, that doesn't mean I have to redefine these dishes alone. I may not be as picky of an eater, but learning to embrace Filipino food has taken me a long time.
The bottom line is: I might not always have felt free to be myself at other tables, but I'm finally learning to appreciate that I have always been able to come home and feel safe with my family. 
We laugh over new recipe mishaps and I get to see the way my parents and grandparents trade helpful advice with one another. When my brother made leche flan, he hesitated before flipping it over. I could feel the panic rising so I stepped over and encouraged him.
Together, we figured out how to make do with the utensils we had. It wasn't perfect. Showing up never requires perfection from us.
Filipino gatherings are memorable and fun not just for how you're guaranteed to have delicious leftovers. There is so much care packed into each Tupperware. Each recipe is a legacy of love. Filipino food culture taught me that being hospitable means being present for everyone's stories. 
For me, embracing this truth means I am empowered to set my own table with Filipino food. When loved ones or strangers come to my table, I want them to feel as I do at home: safe and nourished.
Are you also in the process of reclaiming the joy in your Filipino roots?
We love to see it! Join our
Email Barkada
for Filipino stories on culture, identity, and Brown joy;
plus,
the occasional update and offer to help you
 with Filipino jewelry.
---
Mikaela Lucido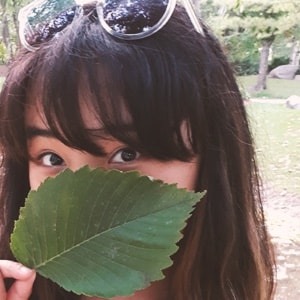 Mikaela Lucido was born in Manila, Philippines and lives in Mississauga. She studied Creative Writing & Publishing at Sheridan College. Her work has been featured in Savant-Garde Literary Magazine, post ghost press, Gothic Tales of Haunted Futures, and Augur Magazine. She is a first reader for Savant-Garde Literary Magazine. Find her on Twitter (@LucidoMikaela) where she is often live-tweeting about Taylor Swift, superheroes, or mental health.
---