Since 2009, October in the United States has been celebrated as Filipino American History Month (FAHM). Naturally, its origins stretch further back in time… all the way back to the 1500s, in fact!
What is Filipino American History Month and why do we celebrate it?
The first recorded Filipinos in America came ashore from their galleon on October 18th, 1587, in Morro Bay, California. Today, Filipino Americans comprise one of the largest Asian American groups in the nation.
Given the undeniable presence and contributions of our community, Congress officially recognized October as Filipino American History Month in 2009.
Notably, this month emphasizes history rather than heritage. This is because, according to the Filipino American National Historical Society (FANHS) that first proposed the commemoration, "history includes the events, experiences, and lives of people and their impact on society, 'heritage' is solely about cultural traditions handed down from the past."
We can choose to celebrate for different reasons. We might honor the Filipino
Americans who fought for just living conditions for their families, communities, and kapwa. We might remember what challenges the community has faced to inspire how we continue to affect change. We can celebrate to affirm ourselves and others that Filipino stories truly matter.
At its heart, Filipino American History Month activities are about honoring the past by reflecting as a community. If, like me, you're not sure where to begin, here are some ideas to celebrate FAHM this year!
PS - if you're already fired up for FAHM, download our *free* celebration kit full of Filipiniana-inspired wallpapers and a joyful FilAm playlist on Spotify! Click here.
1. Learn Snippets Of Filipino American History Throughout The Month
History can be an intimidating topic for some of us. We might instantly think of memorizing facts, names, and dates like cramming for a test. For me, being from Canada, my history curriculum was primarily focused on white Canadian settlers. Sound familiar?
In the seventh grade, I grew bored enough with history class that my grades drew attention. During a parent – teacher interview, my teacher, who was white, could only laugh.
"This doesn't matter," I remember him saying. "What's learning about any of this history going to do for them?"
I didn't understand then why my dad was so angry with that response. Now I know, more than anything, history empowers us to understand the past, expose wrongdoing, and demand better.
One practical activity to celebrate our history as Filipinos in America (or Canada) is to learn more about what our ancestors here had to go through. What did they fight for? What were their hopes? Their fears?
In the fall of 1965, over 800 Filipino farm workers participated in the Delano grape strike. Affiliated with the Agricultural Workers Organizing Committee (AWOC), they demanded a raise in their hourly wages and what they earned for each box of grapes. 
I only learned about the Delano grape strike last May during AAPI Heritage Month. Admittedly, I was surprised to find out about the massive Filipino influence on the labor rights movement for farm workers. Moreover, I was embarrassed about not knowing.
It's important to remember that when we open ourselves up to learning, we also learn to eliminate the shame.
One way to learn is by following the Filipino American National Historical Society on Instagram. If you're an auditory learner, podcasts like Long Distance Radio and This Filipino American Life explore our diasporic experiences. The Pilipinx American Library has also compiled a list of resources to get you started.
Personally, I've been really into One Down's videos on YouTube. 
Our learning preferences are all different,  and there's no "right" way to celebrate FAHM. As long as we're spending time with Filipino American stories and learning from them, we are honoring our community.
2. Immerse In Filipino American History Month Through Stories, Film, And Media
The first times I felt represented in the media was mostly after I'd done a Wikipedia or IMDb search. Often, these discoveries would go like this: Wait, Rufio from Hook is Filipino? Or hang on, why does the prince from Brandy's Cinderella look — oh, he's Filipino! 
The representation was retroactive.
Early in 2021, I attended a virtual panel of Filipino filmmakers at South by Southwest (SXSW) thanks to an invitation from my Tita, who helped introduce the panelists. 
There, I learned about Dante Basco's The Fabulous Filipino Brothers, Learning Tagalog with Kayla, and Filipino Canadian film Islands. The filmmakers spoke about growing up in multigenerational households, the campiness and sarcasm of our culture, and how reconnecting with our roots can happen anytime — even in our forties.
Attending this panel inspired me to be more mindful and intentional in supporting Filipino American films. Since then, I've curated my Instagram feed to include events like the Reel Asian Film Festival. As a writer, I've kept my eyes peeled (peeled, I say!) for Filipino American stories like How to Win A Slime War by Mae Respicio, which follows a Filipino American boy "who finds himself, his community, and his voice—through a sixth grade slime war."
I don't recall who said this at the SXSW panel, but I wrote it down in my notebook both because it made me laugh and because it resonated so deeply: "I don't want Matt Damon to tell my story. We have to tell our own stories." 
Engaging with our community's films and media can sometimes feel awkward or intimidating. How can a single movie represent our entire, immigrant or diasporic, experience?
It can't. But when we show up for each other proactively, it tells the world we know our worth. 
3. Stream Fil-Am Music To Uplift Our Voices & Hype Yourself Up For Filipino American History Month
Recently, rapper, producer, and Spoken Word poet Ruby Ibarra landed a cover on The New York Times Style Magazine. 
This spring, Ella Jay Basco (who you may recognize as Cassandra Cain from DC's Birds of Prey) released her single "Gold," on which Ibarra is a featured artist. 
When I found Ruby Ibarra's music, I felt so seen. Her album "Circa91" sustained me through most of my creative writing degree where I was the only Filipina Canadian in my year. 
In the song "Someday," which explores the hardships of "making it in America," Ibarra writes: "I crave for that acceptance like it validates my sanity / I wrestle with affirmations, settle for masking faces / After all, the stolen lands are always greener places." She was the first Filipino American artist whose music so succinctly captured how I felt growing up. 
Ruby Ibarra and Ella Jay Basco are only two Pinay artists whose music explores their identity as Brown women, immigrant children, and Americans. (Let's not forget rising star Olivia Rodrigo or the iconic R&B artist H.E.R.!)
The truth is there's an entire community of Filipino diaspora musicians who we can support and whose art we can appreciate.
PS - We curated a Spotify playlist featuring Filipino artists around the world for FAHM, including Ruby Ibarra and Ella Jay Bosco (among many others). Get it as part of our digital celebration kit for FAHM.
Access it for free here
.
4. Support Local Artists, Artisans, And Businesses Throughout Filipino American History Month
Showing up for the Filipino community doesn't stop at boosting visibility. Sharing and supporting each other's projects and businesses helps sustain our living history. If you haven't engaged with many Fil-Am businesses before, have no fear (we're all learning here).  
These are just a few to check out:
Owned by Filipina American Pia T. Barton, Malaya Botanicals is a holistic wellness company that offers CBD-infused products and essential oils. Malaya's products can help with your skincare routine, pain management, and relaxation. Malaya (which means free and independent in Tagalog) focuses on empowering women through wellness and health. 
Meanwhile, Le Petit Elefant is a stationery shop owned by Genevieve Santos. Her work is an "ongoing culmination and mixing of personal experiences, relationships, travels," and her deep love for ice cream. I am particularly drawn to her comforting art style and Filipino food washi tape.
Then of course, there's Cambio & Co.! Shop Filipino jewelry made by traditional artisans from the Philippines, learn the history of Filipino craftsmanship, and #WearYourHeritage throughout October (and beyond). Check out their full collections here.
Finally, Angelia Trinidad started the Passion Planner to draw focus on what "really mattered" to her in life. Since then, Angelia and the team have fostered their own community (#PashFam) that recognizes the importance of intention, reflection, and creativity. On that note … 
5. Connect With Your Local Community For Filipino American History Month
For a few years, my dad would take my brother and I to our city's cultural festival. I'd beg to stay at the Filipino pavilion just to watch the cultural dances. But whenever I brought it up to my childhood friends, it felt wildly uncool to celebrate our roots. 
I've come to celebrate more of my heritage outside of that group, of course — still, community is so important.
Something we can be more intentional about is simply checking out FAHM programming at local FANHS chapters and Filipino American centers. 
It may even start closer to home. We can start or join our own gatherings with Filipinos on campus, in our neighborhoods, or in my case, try to find a group of bedroom dancers who want to learn something new.
This might look like organizing an event for community spaces, too. Whether it's finding a storytelling hour, sharing in food history, or learning more about Filipino fashion, the important thing is to connect.
I think back to my seventh grade history teacher. "What's learning any of this history going to do for them?"
In the long run, learning about white Canadian settlers without seeing BIPOC communities only fed into my internalized racism and ignorance. But learning about history in its fullness, humanity, and in my case, unashamed Filipino-ness, has done so much healing.
It empowers me. It can do the same for you. It matters.
Connecting to our roots is a life-long process that continues far beyond Filipino American History Month in October. When we advocate that the stories of our community are not forgotten, we lend a hand in writing a better one for the future.
Cover photo of a mural in Historic Filipinotown, Los Angeles, by Kenny Chang
Are you looking for new ways to celebrate Filipino American History Month?
Get a *free* digital celebration kit for FAHM and beyond! Inside we included: learning resources, a playlist, and wallpapers to help you celebrate your Filipina/x/o self unapologetically. (Plus, you'll automatically be welcomed into our Email Barkada!)
---
Mikaela Lucido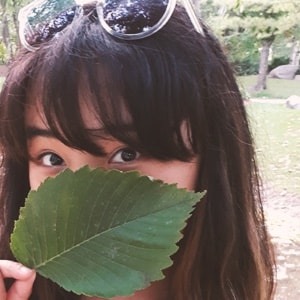 Mikaela Lucido was born in Manila, Philippines and lives in Mississauga. She studied Creative Writing & Publishing at Sheridan College. Her work has been featured in Savant-Garde Literary Magazine, post ghost press, Gothic Tales of Haunted Futures, and Augur Magazine. She is a first reader for Savant-Garde Literary Magazine. Find her on Twitter (@LucidoMikaela) where she is often live-tweeting about Taylor Swift, superheroes, or mental health.
---
1 comment
---
---