Filipino holiday traditions, like Santa, have a way of transcending borders. They connect us to each other despite the distance we may have from loved ones.
At four years old, I didn't believe in Santa Claus. I was convinced that because we didn't get snow in Santa Rosa, Laguna, that he couldn't reach us. So, he could not be real. I think I tried explaining this once to my lola, who had images of Santa all over her living room leading up to Christmas. I imagine that didn't go over very well.
Six months later, before I turned five, I said goodbye to my grandparents, cousins, titas, titos, and Ali, our family dog who we couldn't afford to bring with us to Canada. 
Then, snow became part of my reality. My family would feast at midnight and, still, Santa didn't knock on our door. Even then, I never felt like I missed out. We went house to house and stuffed ourselves with Filipino food. And there was singing. Lots of it.
To me, Christmas existed in more colours than red and green. If the laughter of my family could be held in a colour, it would be a rainbow. There were so many lights.
The first Christmas I can vividly remember. Don't worry, we've since stepped up our tree decorating game!
One of my earliest holiday memories in the Philippines was putting up the tree weeks, if not months, before Christmas. At nine, settled in Canada, I appointed myself the Christmas tree decorator and would beg my parents to dig out the tree from the garage in October.
The holidays are looking different this year, but I know that when Christmas comes, my family group chat will burst like fireworks of GIFs, emojis, and exclamation marks. I will text my cousins something funny my grandparents have said and we'll laugh about how we're turning into our own parents.
I hope we can all find merriment and look back on our traditions with warmth and joy, regardless of where we are and the changes we've been through. 
Snuggle in with a piping hot mug of salabat (ginger tea) or tsokolate. I present just a few of my favourite Filipino holiday traditions and how my family is doing them a bit differently this year:
Filipino
Holiday Celebrations Start in September
To me, September 1st has always represented the beginning of Christmas. It was only when I started seeing non-Filipino friends on social media posting about how Christmas couldn't truly start until after Halloween (unthinkable!) that I realized this was not "normal" in North American culture. 
The Philippines has the longest Christmas season in the world. Community is vital for us. As Ed Timbungco, a professor at De La Salle–College of St. Benilde, explains in Rappler:"We are really suckers for anything that will allow us to celebrate and spend more time with our loved ones." This is why an extension of the holidays makes sense. During a difficult year, we might feel an even stronger pull to connect and reconnect with one another.
I might just channel all my love for collage into postcards this December!
This year, I'm sending holiday cheer to my family through letters and gifts. If you're also planning on getting your own shopping done early and want to support Filipino brands, check out Cambio & Co's Filipino Holiday Gift Guide.
Put Up Parols
My parents never put up a parol but going to my cousins' houses and seeing the lights dance in their windows always brought a smile to my face, especially when we walked up their snowy driveways with food and gifts in our arms.
My cousin Louise's parol!
A parol is "a traditional Filipino, star-shaped Christmas lantern that represents the star the Three Wise Men followed."
For many Filipinos like myself, the parol symbolizes Christmas as much as a tree or a candy cane. It is a symbol of home—whatever that might mean. Whenever I see a parol here in Canada, I think of my cousins in the Philippines.
I probably won't get to see my cousins' parols in their windows this year, so I will be attempting to make my own parol. 
No Sleep 'Til Noche Buena
I remember how shocked my non-Filipino friends were to hear that my family would stay up past midnight to have our Filipino Christmas feast, after which we would open our presents. 
As a kid, I would do all sorts of things to stay awake until then: slap together a Christmas skit and force my cousins to participate, binge-watch Avatar: The Last Airbender, or do karaoke. If you're at a loss for good sing-along numbers, check out Cambio's Filipino holiday playlist and belt to your heart's content!
Christmas 2018. Thrifty eyebags are my holiday accessory!
For Filipinos, the night leading into Christmas Day is called Noche Buena. More importantly, it refers to the feast after midnight. As you can guess from its name ("good night"), the tradition comes from the Catholic influence of Spain, who colonized the Philippines for over three hundred years.
My family's Noche Buena will be a little quieter this year. We won't have as many people to hug and greet, but we will still wait for midnight to strike and enjoy each other's company through song, bad dad jokes, and food… so much food.
Fill Up With Festive Filipino Food
One year, my family made enough embutido (Filipino meatloaf) to last us well into the new year. To this day, if you so much as mention the word, my cousins, brother, and I shudder. My dad's turned it into his own tradition to tease that he'll make it again for Noche Buena. Thankfully, we've always had endless options when it comes to our Christmas feasts. 
My mother's side of the family will usually gather on Christmas Eve where we have plenty of lumpiang shanghai (spring rolls) and my lola's specialty: macaroni salad. If it's not at that gathering, the lechon (roast pig) will make its appearance at another party. 
Noche Buena food through the years with the Dacanaysーmy mom's side of the family! (Photos by my Tita Sophy)
Typically, my Tita will bring over her leche flan (caramel custard), and if we're lucky, another Tita will have brought one of her own. (This is always a relief because leche flan disappears at lightning speed at every Filipino celebration I've been to.) 
And of course, there's buko pandan, a dessert with green pandan-flavoured gelatin, young coconut, and sago pearls. My stomach is growling just thinking of it. 
Again, I'm not all too sure how I will celebrate this year. Normally, after we've consumed the leche flan and buko pandan ("Mikaela, there's buko pandan!"), each family hosts a game. We compete for prizes like Lindt chocolate and I triple-check if there's still leche flan.
Noche Buena 2019 with the Dacanays! 
My brother tried making leche flan for the first time last year. Although we nearly burned it, it turned out delicious. I guess it is my turn this December.
In making our own parols and attempting dishes we might have always counted on, we can find that familiar Pinoy comfort. This might even mean adding new traditions or dusting off old ones.
My family might return to marathoning Avatar: The Last Airbender or watching You've Got Mail for the thousandth time. We might find a new favourite film altogether. We might teach our parents new board games or even attempt teaching them Among Us and Jackbox. 
Regardless of how we reinvent the holiday spirit, the important thing is that we find warmth in each other, be it through Zoom calls or letter-length messages. (A tita's laugh can cross borders, too.) This year, through snow or rain or this uncertainty we all live in, we can still hope and love fiercely. Loudly. It's what we do.
What are your favourite Filipino holiday traditions? How will you be celebrating this year?
---
Mikaela Lucido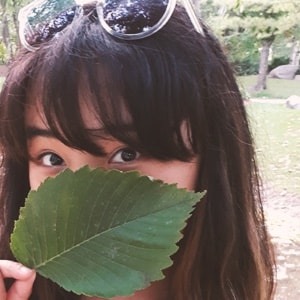 Mikaela Lucido was born in Manila, Philippines and lives in Mississauga. She studied Creative Writing & Publishing at Sheridan College. Her work has been featured in Savant-Garde Literary Magazine, post ghost press, Gothic Tales of Haunted Futures, and Augur Magazine. She is a first reader for Savant-Garde Literary Magazine. Find her on Twitter (@LucidoMikaela) where she is often live-tweeting about Taylor Swift, superheroes, or mental health.
---