When my Filipino grandmother visited our home in Canada, she would wear the same duster dress everyday. As a kid, I had no idea what a duster dress was, so this struck me as odd. Still, the distinct brown pattern would warm my heart and when my Lola hugged me, I would press my cheek into the soft fabric.
The summer Lola came to stay and shared my room is still one of my favorite memories.
Three years ago, when I visited the Philippines, I finally learned what a duster dress was and all the reasons to appreciate it. I learned it represents care and home for many Filipinas. It reflects our culture and history.
During this trip my Tita gave me my own duster and it became a staple look for me the Spring I spent with her in the Philippines.
The duster is (almost) as unapologetically Filipino as my
Lola.
You may wonder, like I did, what is a duster (a.k.a. "daster")? 
Simply put, it's a loose and flowy dress primarily worn at home as pambahay. It often has a vibrant print. Some are abstract, some flaunt the Philippines' tropical flora—like your garden variety gumamela (hibiscus), sampaguita (jasmine), and palm fronds. It's a "lola staple."
Me in the arms of my Lola Laydee and her super soft duster dress in December 1997
When I first arrived at my Tita's home in Mandaluyong, to borrow my dad's words, I had packed half the house. I've always been insecure about my body but that's amplified in the summer. The more options I brought with me, the more fabrics I thought I could hide behind.
But the duster's loud pink flowers gave me renewed confidence. I would wear it outdoors like you'd wear a summer dress from Forever 21.
I didn't realize that this wasn't "The Norm" until my mom messaged me asking why I was wearing a duster out and about. Still, some classmates in Canada commented or DM'd on my Instagram asking where I got my dress. It only empowered me to wear my duster more.
Duster dresses are more than loungewear, they're life wear.
Historically, a duster was an overcoat worn by horseback riders, then motorists. They were used to protect an individual from dust while on the road. (Shocking, I know.)
A very old duster from the 1800s, worn by American outlaw gang The Younger Brothers. 
(
Photo from Wikipedia
.
)
Most Filipinos are probably more familiar with the image of nanay, tita, or lola wearing the daster while sweeping and dusting the house. 
Versions of the house dress (like the Mother Hubbard Dress, the muumuu, and so on) exist across cultures but its connection to home and the people we come from make it feel so personal for Filipinas and Filipinos. 
Reflecting the conventional role of the Filipinas who wore them, the duster is what you have on while doing house work: cleaning, cooking, gardening, etc. It was designed for mobility, utility, and functionality.
To that point, my mom shared with me that she wore dusters when she was pregnant with both my brother and myself because it helped her keep cool and allowed her to move more freely.
Duster dresses are timeless and accessible—two qualities we need more of in Filipino fashion. 
It's empowering to look back and see just how much we, as Filipinos, maximize what we have. We're big on resourcefulness that goes the distance. Most things we own can find a second use or purpose.
For instance, the Halohalo's Dalaga dress wasn't intended to become loungewear. But the dress's silhouette and mobility gave it new life as a duster-like garment.
Dusters aren't the only piece which reflects the wisdom of our grandparents. 
Brands like Dear Samfu boast ethically made clothing inspired by the founder's grandmother. Based in Singapore, the company is named for the samfu, which is a matching shirt and trouser everyday outfit popularized in the 1950s and 60s. 
Contrary to Western belief, our elders know what's up, especially in the great wide world of everyday fashion. Not only are they functional, but dusters are accessible and affordable. Often, you can snag one at a local supermarket in the Philippines.
Truthfully, before 2018, I wouldn't have considered capsule wardrobes. (I am a recovering pack rat.) But I wore the duster throughout the rest of my stay in the Philippines, inadvertently following in my Lola's footsteps. 
Lola Laydee and I strike again on a summer's day in Laguna
Filipino duster dresses are a symbol of care and comfort that remind us of home. 
Honestly, I find that dusters can be underrated because they're so intertwined with the collective memory of maternity and our grandmothers. In a recent conversation, my mom even shared that she associates dusters with domestic life and how that can feel oppressive for many.
Still, if there's anything I've learned by staying at home throughout 2020, it's clear that housework is exactly that: work. It takes time, energy, and ideally, love to keep our spaces clean and, well, homely.
With that in mind, we can learn to appreciate who's been assigned to care for our homes and those who we live with.
My mom
,
wearing a duster while celebrating her birthday
(and the fact she was pregnant with me, let's be real)
If we're to reclaim the duster from obscurity, we have to avoid the pitfall of "elevating" it into "glambahay"—this makes it inaccessible to the very people who made it iconic.
We can find intentional ways to celebrate and honor the Brown bodies wearing the Filipino house dress. This might look like acknowledging the complexities of what it means to be "domestic."
Historically, and for many even now, this has meant being restricted. But I wonder if there can still be comfort and joy for the people who are caring for these spaces. I know for myself, I am thankful for the choice I have to maintain my space. It feels freeing both literally and mentally. I recognize that might not be the reality for everyone.
I think, then, we can start by looking at those who are already doing the work. For instance, Dusters Of Manila works with a seamstress for limited releases of dusters made with locally-sourced materials.
Celebrating and embracing my Lola's duster has meant looking into its history and appreciating its longevity, comfort, and Pinay style while acknowledging and exploring why it's undervalued. Ultimately, reclamation is about education and empowerment.
So to my Lola Laydee, this one's for you, your warm hugs, and your brilliantly Brown duster.
Did you enjoy this story? Are you also reclaiming your Pinay style?
Join our Email Barkada to get stories about finding resistance and joy in our Brown beauty - all straight to your inbox. Subscribe below.
---
Mikaela Lucido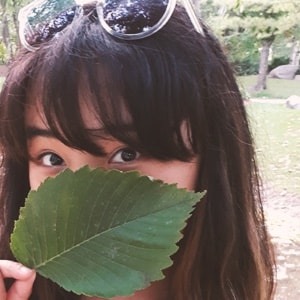 Mikaela Lucido was born in Manila, Philippines and lives in Mississauga. She studied Creative Writing & Publishing at Sheridan College. Her work has been featured in Savant-Garde Literary Magazine, post ghost press, Gothic Tales of Haunted Futures, and Augur Magazine. She is a first reader for Savant-Garde Literary Magazine. Find her on Twitter (@LucidoMikaela) where she is often live-tweeting about Taylor Swift, superheroes, or mental health.
---
3 comments
---
---